PURLASTIC FLASHING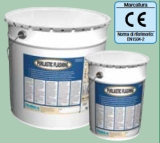 Description:
Imperméabilisant polyuréthane-bitume monocomposant thixotrope prêt à l'emploi adapte aux interventions d'impermeabilisation et de reparation de vieux revetements bitumineux.
PURLASTIC FLASHING - How to use PURLASTIC FLASHING: application of a water outlet and application of an aerator on a slated polymer-bitumen membrane. Connection between woodden relief and bituminous membrane.
PURLASTIC FLASHING - Presentazione del prodotto ed alcuni esempi di posa.