Acoustic insulation against foot traffic noise of floors on XLAM wooden slabs: solution with "damp" floating screed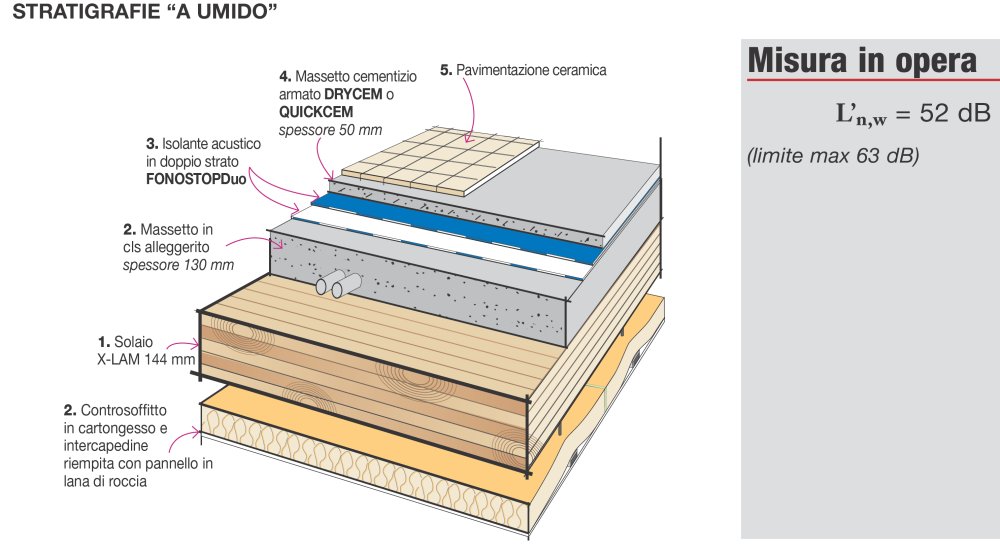 For further information please refer to the ACOUSTIC INSULATION OF BUILDINGS GUIDE below.
Description of the layers and related product data sheets:
1. XLAM floor slab
2. False ceiling
2a. Acoustic Insulation
SILENTRock
SILENTEco
3. Filling foundation
4. Sound-resilient insulating layer/s
FONOSTOPDuo
FONOSTOPAct
5. Reinforced floating screed
DRYCEM PRONTO
QUICKCEM PRONTO
QUICKCEM PRONTO HP
6. Ceramic floor
6a. Adhesive
FLEXBOND
GENIUSTRONG
6b. Tile Grouting
FUGOPOX COLOR AB
For proposals or different solutions please contact our technical department of Index S.p.A.
For many other stratigraphy and / or insights, you can consult the following documentation: