Acoustic insulation against foot traffic noise of floors on traditional wood floor slabs: solution with embossed radiator heating system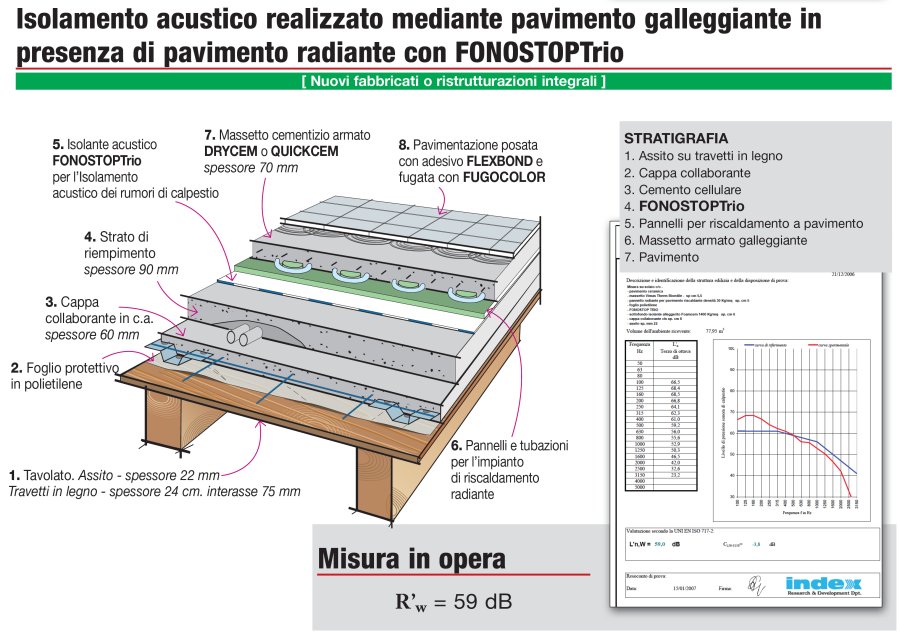 Description of the layers and related product data sheets:
1. Boards
2. Protective sheet
INDEXTENE HDPE SUPER
3. Structural screed
4. Filling foundation
QUICKTERM
5. Sound-resilient insulating layer/s
FONOSTOPTrio
5a. Perimeter strip
FONOCELL - ROLL - ANGLE
6. Embossed insulation panel
7. Reinforced floating screed
DRYCEM PRONTO
QUICKCEM PRONTO
QUICKCEM PRONTO HP
8. Ceramic floor
8a. Adhesive
FLEXBOND
GENIUSTRONG
8b. Tile Grouting
FUGOCOLOR 0-4
FUGOCOLOR 2-12
FUGOCOLOR 4-15
FUGOCOLOR MAXI
FUGOPOX AB
FUGOPOX COLOR AB
For proposals or different solutions please contact our technical department of Index S.p.A.
For many other stratigraphy and / or insights, you can consult the following documentation: