Waterproofing and energy rehabilitation of an existing roof without providing for the demolition of the existing layers. The new panel is bonded on the existing membrane.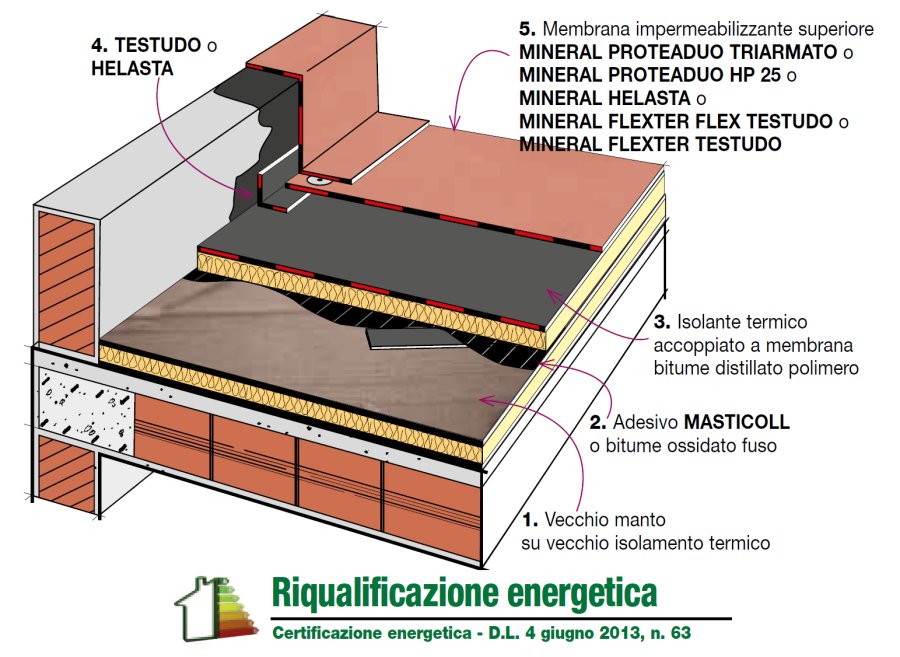 If the old covering has good adherence properties, once repaired, it can be reused as vapour barrier for the new thermal insulation layer (its thickness must always be checked by the specialised technician in order to prevent condensation beneath the vapour barrier). The new insulation is mechanically fixed or bonded with MASTICOLL or bonded with melted bitumen. The new covering will be mechanically fixed to the foot of the projecting parts.
Description of the layers and related product data sheets:
Old bitumen covering
Bituminous adhesive agent
MASTICOLL
Thermal Insulation
ISOBASE PSE
ISOBASE PSE/EXTRUDED
ISOBASE PUR
ISOBASE THERMOPLUS PUR
ISOBASE PSE GRAPHITE
THERMOBASE PSE/EXTRUDED
THERMOBASE PSE/80
THERMOBASE PSE/120
THERMOBASE PUR BIGLASS
THERMOBASE PUR BIPAPER
Connector strip
TESTUDO SPUNBOND POLIESTERE 16
HELASTA POLIESTERE
Membrane (second layer)
MINERAL PROTEADUO TRIARMATO
MINERAL PROTEADUO POLIESTERE HP 25
MINERAL HELASTA POLIESTERE
MINERAL FLEXTER FLEX TESTUDO SPUNBOND POLIESTERE 4
MINERAL FLEXTER TESTUDO SPUNBOND POLIESTERE
For proposals or different solutions please contact our technical department of Index S.p.A.
For many other stratigraphy and / or insights, you can consult the following documentation: