Laying of a new semi-adhesion vapour barrier and new flame-bonded insulation on TECTENE BV BISTRIP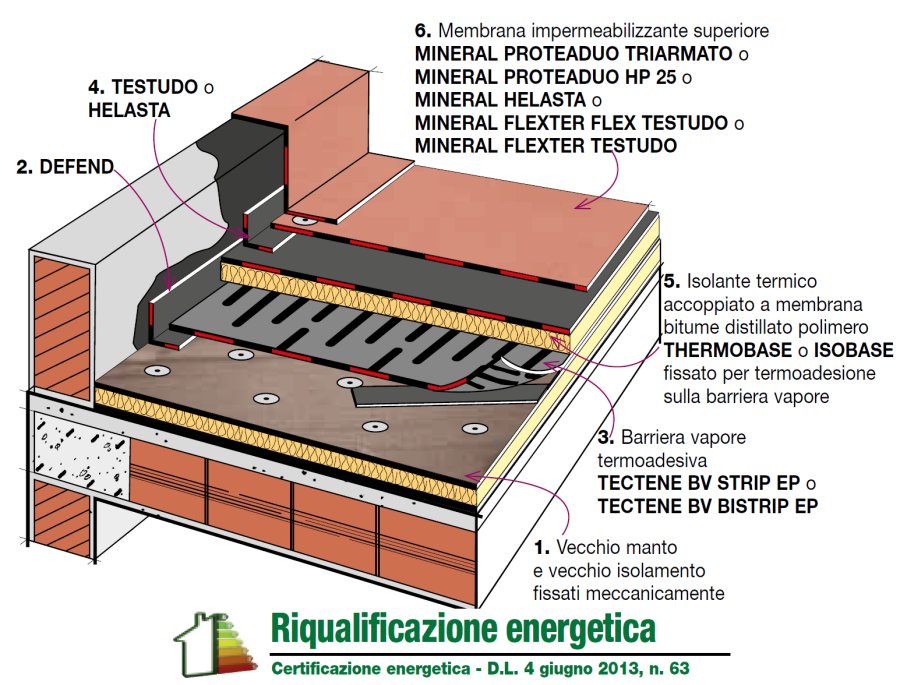 The old stratigraphy is not adherent, still retains dampness and has been stabilised with nailing all over the entire surface and the detached covering of the projecting parts has been removed. Therefore, to avoid bubbles, a new flame-bonded vapour barrier in semi-adherence is needed, consisting of TECTENE BV BISTRIP EP/V or, for high vapour production environments, of TECTENE BV BISTRIP EP ALU POLIESTERE. Before laying the BV, the edge between the vertical and flat parts must be reinforced with a DEFEND or DEFEND ALU POLIESTERE strip which will bring forward for 5 cm the thickness of the thermal insulation on the vertical element.
Description of the layers and related product data sheets:
Old bitumen covering
Thermal-adhesive vapour barrier
TECTENE BV BISTRIP EP ALU POLIESTERE
TECTENE BV BISTRIP EP / V
TECTENE BV STRIP EP /V
TECTENE BV STRIP EP ALU POLIESTERE
ISOBASE PSE
ISOBASE PSE/EXTRUDED
ISOBASE PSE GRAPHITE
THERMOBASE PSE/EXTRUDED
THERMOBASE PSE/120
Connector strip
TESTUDO SPUNBOND POLIESTERE 16
HELASTA POLIESTERE
Membrane
MINERAL PROTEADUO TRIARMATO
MINERAL PROTEADUO POLIESTERE HP 25
MINERAL HELASTA POLIESTERE
MINERAL FLEXTER FLEX TESTUDO SPUNBOND POLIESTERE 4
MINERAL FLEXTER TESTUDO SPUNBOND POLIESTERE
For proposals or different solutions please contact our technical department of Index S.p.A.
For many other stratigraphy and / or insights, you can consult the following documentation: