Refurbishment - in semi-adherence, in double-layer with flame-bonded waterproofing covering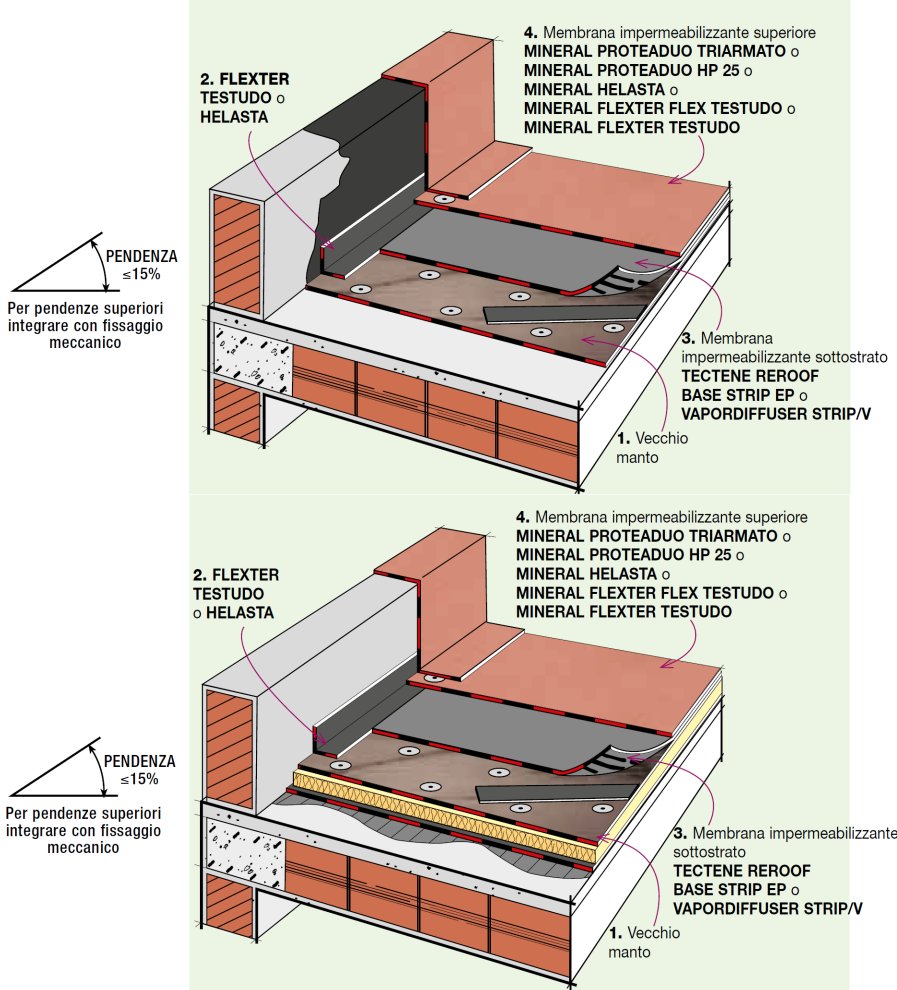 This is reserved for cases of severe degradation and consists of a first layer of TECTENE REROOF BASE STRIP EP or VAPORDIFFUSER STRIP/V, both with the bottom surface coated with strips of a special elastomeric thermal-adhesive compound bonding which can be activated with heat and ensure a strong, safe and durable semi-independent adhesion. The contact surface is of about 40% and ensures a considerably high wind resistance, due to the greater adhesion. The wind resistance of the thermal-adhesive strips has been tested in accordance with the TR 005 test, exceeding the maximum resistance 10 kPa provided for testing. The elastic bonding and the distance between the strips also allow the distribution of mechanical loads and prevent the propagation of cracks of the old covering. The strips protrude from the membrane surface and — together with the remaining 60% of the surface, which is sand-coated and is not bonded to the laying surface — create a micro air space that allows water vapour to circulate and prevent bubbles from forming. The angle between the flat and vertical part will be reinforced by torch-bonding across the corner a 20 cm wide strip of smooth membrane of the same type as the membrane to be used as the upper layer, to be applied before the vertical parts are covered. The membranes which form the second layer must be flame-bonded in complete adhesion on top of the overlaps of the first layer.
Description of the layers and related product data sheets:
1. Old bitumen covering
2. Connector strip
FLEXTER TESTUDO SPUNBOND POLIESTERE
HELASTA POLIESTERE
3. Membrane (first layer)
TECTENE REROOF BASE STRIP EP POLIESTERE
VAPORDIFFUSER STRIP/V
4. Membrane (second layer)
MINERAL PROTEADUO TRIARMATO
MINERAL PROTEADUO POLIESTERE HP 25
MINERAL HELASTA POLIESTERE
MINERAL FLEXTER FLEX TESTUDO SPUNBOND POLIESTERE 4
MINERAL FLEXTER TESTUDO SPUNBOND POLIESTERE
For proposals or different solutions please contact our technical department of Index S.p.A.
For many other stratigraphy and / or insights, you can consult the following documentation: