Refurbishment - in semi-adherence, in single-layer with flame-bonded waterproofing covering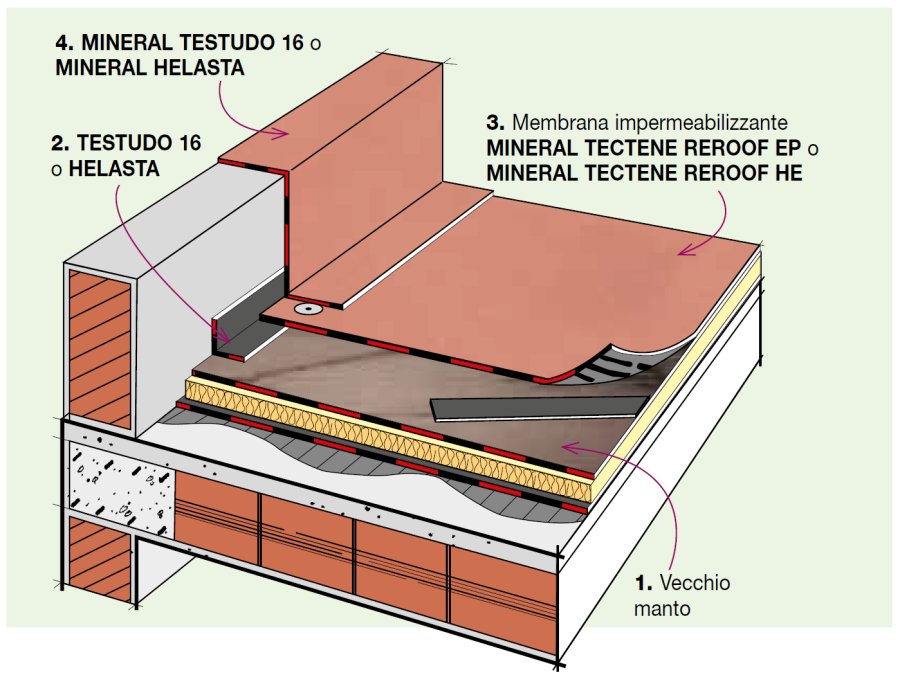 Old bitumen coverings can retain dampness and change size near the gaps which have caused their disruption. In this case, the refurbishment operation must provide bonding spot by spot and semi-independently, both to ease vapour disappearance and avoid bubbles, and to avoid the propagation of cracks from the old to the new waterproofing covering. The spot flame-bonded laying of normal membranes does not ensure the even distribution of the connection and does not provide a micro air space necessary for the vapour circulation. The risk is that if you bond too much, you create bubbles, or if you do not bond enough, the wind will remove the new waterproofing covering. To solve the problem, you need to include other sheets provided with holes but with an adhesion surface of below 20%. The new special membranes produced by INDEX have an adhesion surface of 40%. Furthermore such surface is integrated to the membrane, ensuring a wind resistance which is remarkably higher, due both to the larger adhesion surface and to the greater quality of the adhesion.
Description of the layers and related product data sheets:
1. Old bitumen covering
2. Connector strip
TESTUDO SPUNBOND POLIESTERE 16
HELASTA POLIESTERE
3. Membrane
MINERAL TECTENE REROOF STRIP EP POLIESTERE
MINERAL TECTENE REROOF STRIP HE POLIESTERE
4. MINERAL Membrane (slated strip)
MINERAL TESTUDO SPUNBOND POLIESTERE
MINERAL HELASTA POLIESTERE
For proposals or different solutions please contact our technical department of Index S.p.A.
For many other stratigraphy and / or insights, you can consult the following documentation: