SELFTENE STRIP TERRACE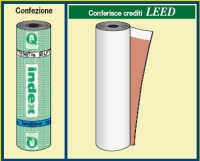 Description:
Elastomeric polymer bitumen self-adhesive waterproofing membrane reinforced with polyester non-woven fabric, with its upper face covered by micro-granules of slate and its lower face spreaded with a self-adhesive mix.
PROBLEM: How to waterproof a balcony or terrace, with a polymer bitumen membrane, without using a torch, where the thickness is not sufficient for a screed
SOLUTION: In new builds, upon completion it often arises that on balconies and terraces the thickness isnĺt sufficient for laying a screed. The same is valid for renovations, when trying to avoid the demolition of the old floor. This is often added to the problem of laying on small surface areas in situations where using a torch is inconvenient or could damage the existing floor.


Product References
Sistema completo: SELFTENE TERRACE SYSTEM - Impermeabilizzazione di un balcone - Rifacimento dell'impermeabilizzazione di un balcone con la membrana autoadesiva microardesiata SELFTENE STRIP TERRACE. Altri prodotti impiegati per il completamento del balcone: PURLASTIC FLASHING (impermeabilizzante), UNOLASTIC (impermeabilizzante), GEORAPID (ripara e livella), FLEXBOND (adesivo per piastrelle), FUGOPOX COLOR AB (stucco per fughe), EXTRAPAINT (pittura per esterni/interni), FINISHBRILL (Smalto semilucido all'acqua), UNISIL G (sigillante ad alte prestazioni), accessoristica di completamento: bocchettoni verticali e orizzontali, profili metallici.
COMPARAZIONE TRA IMPERMEABILIZZANTE CEMENTIZIO E SISTEMA SELFTENE STRIP TERRACE - Comparazione tra impermeabilizzante cementizio e il sistema SELFTENE STRIP Terrace.
PLAYLIST DI VIDEO SUL SELFTENE STRIP TERRACE - Playlist: VIDEOINTERVISTE SU CHI HA GI└ PROVATO SELFTENE STRIP TERRACE.
PURLASTIC FLASHING - Presentazione del prodotto ed alcuni esempi di posa.
UNOLASTIC - Come impermeabilizzare gli angoli interni ed esterni con UNOLASTIC