Acoustic insulation operation of existing floor slabs (acoustic treatment) made of floating wooden floors.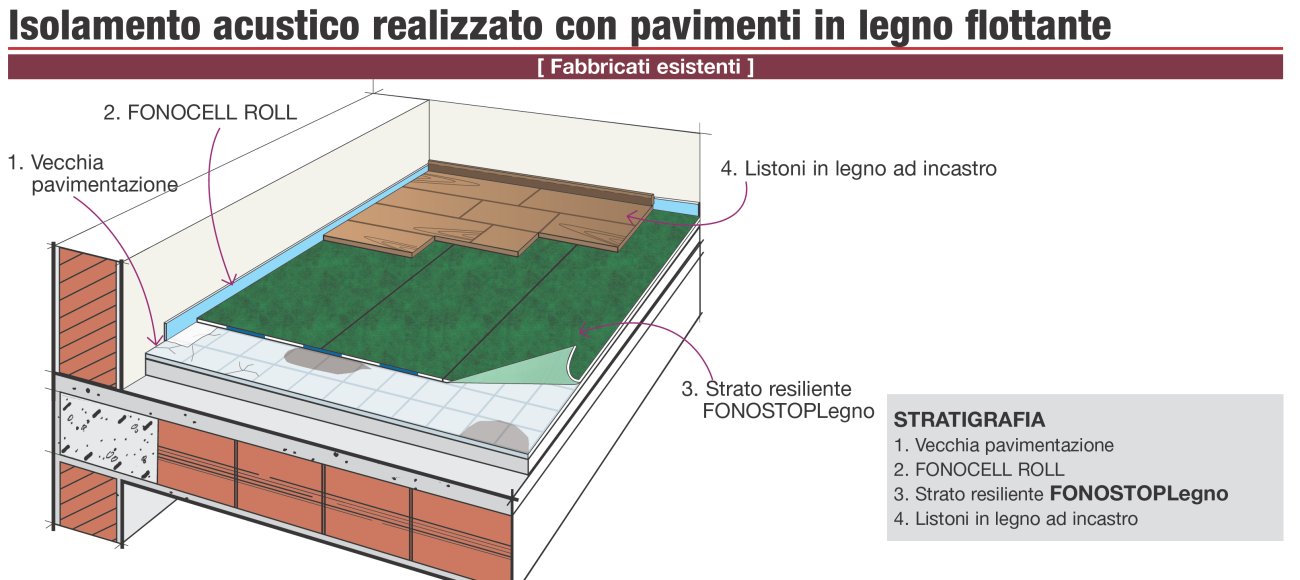 The insulation system is similar to the one already illustrated previously. The difference in this case is that no floating screed is provided as the same floor floats directly onto the insulating material. This system can be implemented in new buildings but can also prove very useful when refurbishing, by laying directly onto the old flooring, thus avoiding demolition. Thanks to its limited thickness, it can also be used in desperate situations as with a new building when there is insufficient height due to the screed or project-related and/or laying errors and the expected result has not been achieved. FONOSTOPDuo can be used as insulating material but must be requested in the version without overlapping flap. Conversely, a more specific product has also been developed, FONOSTOPLegno, suitable for wood interlocking flooring which has a slightly lower acoustic performance but occupies less space and is provided with a lower compression level both to avoid damaging of the interlocking joints of wooden boards, and to avoid the unpleasant feeling of excessive softness of the floor while walking on it. FONOSTOPLegno consists of a sound-resilient foil combined with an elastic high-density non-woven fabric. The insulation material is produced in rolls of 10×1 m. FONOSTOPLegno has a high friction coefficient with cement surface laying and is sufficiently heavy to remain in place when laying the wooden floor, thus ensuring the continuity and stability of the insulation. FONOSTOPLegno is resistant to worksite traffic and is fitted with a polypropylene high-density non-woven fabric with high crush resistance that maintains its performance over time. FONOSTOPLegno has a resistance to compression 5 times higher than FONOSTOPDuo. FONOSTOPLegno operates also in protecting the underlying wooden floor, since the sheet that forms the upper part of the product is waterproof and resistant to the passage of vapour which could come up from below. The insulation and the floor are laid completely dry and this is less problematic than laying reinforced concrete floating screed. The FONOSTOPLegno rolls must be laid on smooth, clean and dry surface free from dips and irregularities. FONOSTOPLegno must be laid with the non-woven fabric surface facing the floor slab to be insulated. FONOSTOPLegno is also used under cementitious screed in those special cases where a very high resistance to compression is required.
Description of the layers and related product data sheets:
1. Old floor
2. Perimeter strip
FONOCELL - ROLL - ANGLE
3. Sound-resilient insulating layer/s
FONOSTOPLegno
5. Floating wooden floor
For proposals or different solutions please contact our technical department of Index S.p.A.
For many other stratigraphy and / or insights, you can consult the following documentation: