Roof with photovoltaic systems: Two-layer refurbishment torch-bonded in complete adhesion on a coat of primer (valid for roof pitches =15%). Broof T2 classified roof.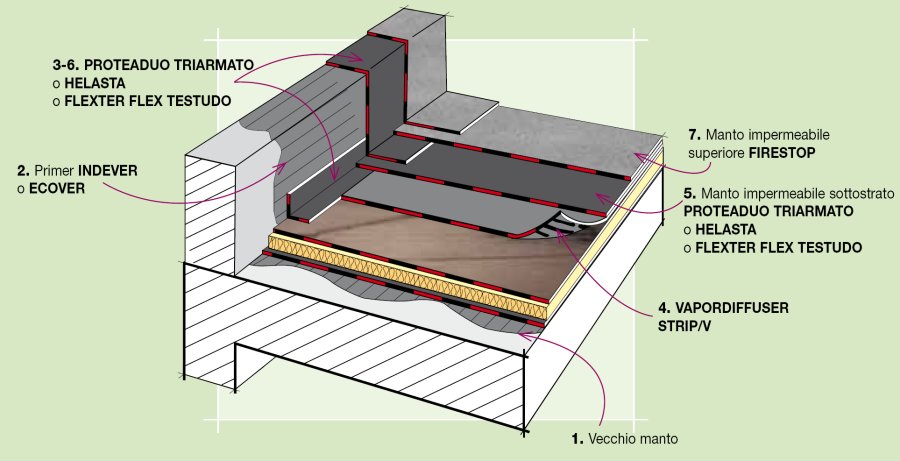 This technical note applies to cases of renovation without demolition, when the old layer structure can be maintained in place. Demolition of the existing layer structure, should, for both economic and environmental reasons, be the last solution to be considered! Full demolition should only be considered in the presence of a layer structure that includes fibrous thermal insulation which is disintegrating and heavily impregnated with water. Deferring demolition works and the consequent reduction in waste over time that results from this is a fundamental criterion of sustainable building. The disposal of waste, and the costs of this, are increasingly problematic, and so it makes sense to avoid the full demolition of the old layer structure.
Description of the layers and related product data sheets:
Old bitumen covering
Primer
INDEVER
ECOVER
Membrane
VAPORDIFFUSER STRIP/V
Membrane (first layer)
PROTEADUO TRIARMATO
HELASTA POLIESTERE
FLEXTER FLEX TESTUDO SPUNBOND POLIESTERE 4
Membrane (second layer)
FIRESTOP POLIESTERE
MINERAL HELASTOPOL FIRESTOP POLIESTERE
MINERAL ELASTOCENE FIRESTOP POLIESTERE
MINERAL PROTEADUO POLIESTERE HP 25 FIRESTOP
For proposals or different solutions please contact our technical department of Index S.p.A.
For many other stratigraphy and / or insights, you can consult the following documentation: