Roof with photovoltaic systems: solution with PROMINENT vapour barrier, thermal insulation in polyurethane rolls or panels, double-layer waterproof covering with complete heat-bonded adhesion. BroofT2 classified roof.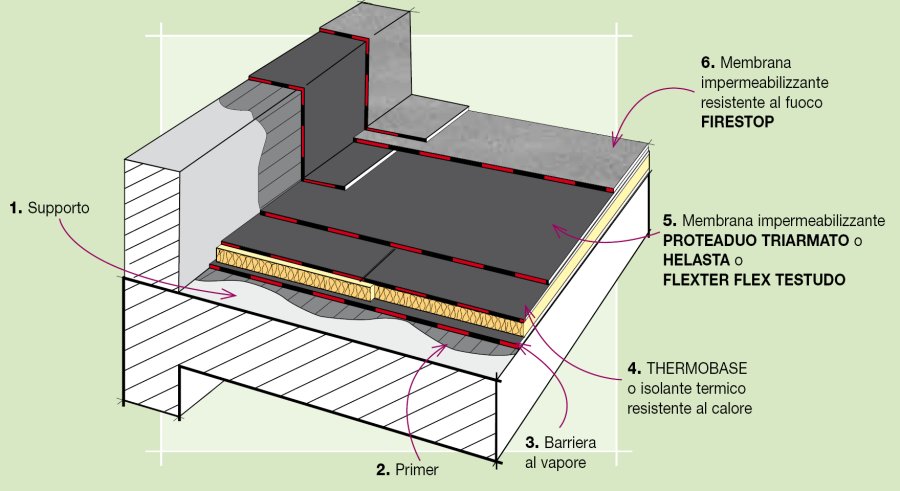 Description of the layers and related product data sheets:
1. Substrate
2. Primer
INDEVER
ECOVER
3. Vapour Barrier
PROMINENT/V
PROMINENT ALU POLIESTERE
PROMINENT POLIESTERE
4. Thermal insulation combined with membrane
THERMOBASE PUR BIGLASS
THERMOBASE PUR BIPAPER
ISOBASE THERMOPLUS PUR
ISOBASE PUR
5. Membrane (first layer)
PROTEADUO TRIARMATO
HELASTA POLIESTERE
FLEXTER FLEX TESTUDO SPUNBOND POLIESTERE 4
6. Membrane (second layer)
FIRESTOP POLIESTERE
MINERAL HELASTOPOL FIRESTOP POLIESTERE
MINERAL ELASTOCENE FIRESTOP POLIESTERE
MINERAL PROTEADUO POLIESTERE HP 25 FIRESTOP
For proposals or different solutions please contact our technical department of Index S.p.A.
For many other stratigraphy and / or insights, you can consult the following documentation: