Refurbishment without demolition of existing roof with transformation into green roof: semi-adherence waterproofing.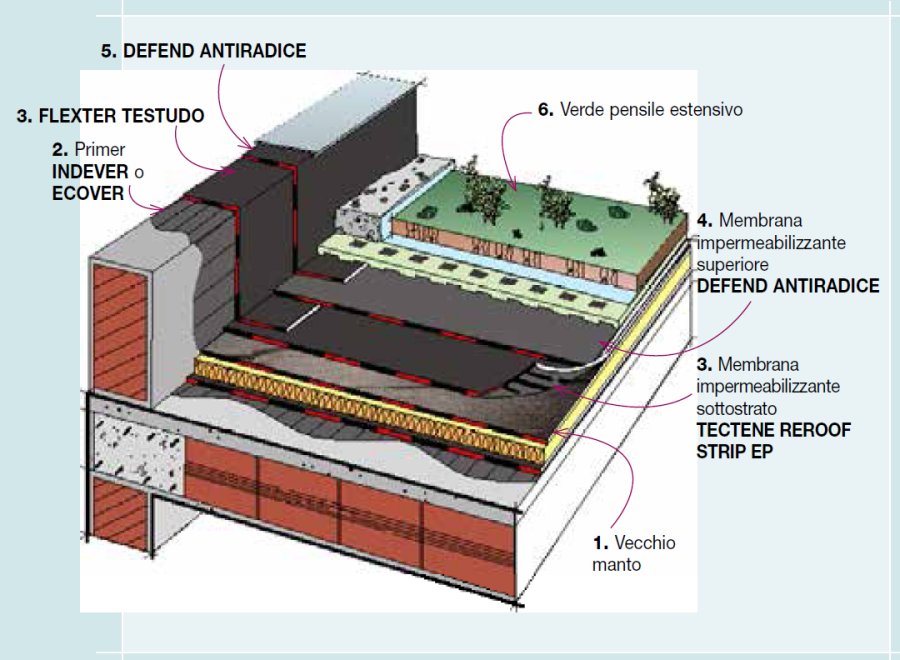 A refurbishment in semi-adherence is carried out on old waterproof coverings that adhere poorly to the support, for which the detached covering of the projecting parts has been removed, where damp is possibly still trapped, especially between the layers of the old covering, which already during laying may cause the formation of bubbles if the new covering is bonded in full adhesion.
Description of the layers and related product data sheets:
1. Old bitumen covering
2. Primer
INDEVER
ECOVER
3. Membrane (first layer)
TECTENE REROOF BASE STRIP EP POLIESTERE
4. - 5. Membrane (second layer)
DEFEND ANTIRADICE POLIESTERE
For proposals or different solutions please contact our technical department of Index S.p.A.
For many other stratigraphy and / or insights, you can consult the following documentation: