REFURBISHMENT OF THE WATERPROOFING ON LOOSE TIMBER BOARDS WITH JOINTS BETWEEN THE LOWER BOARDS AT 5 mm with self-adhesive membranes on ROLLBASE.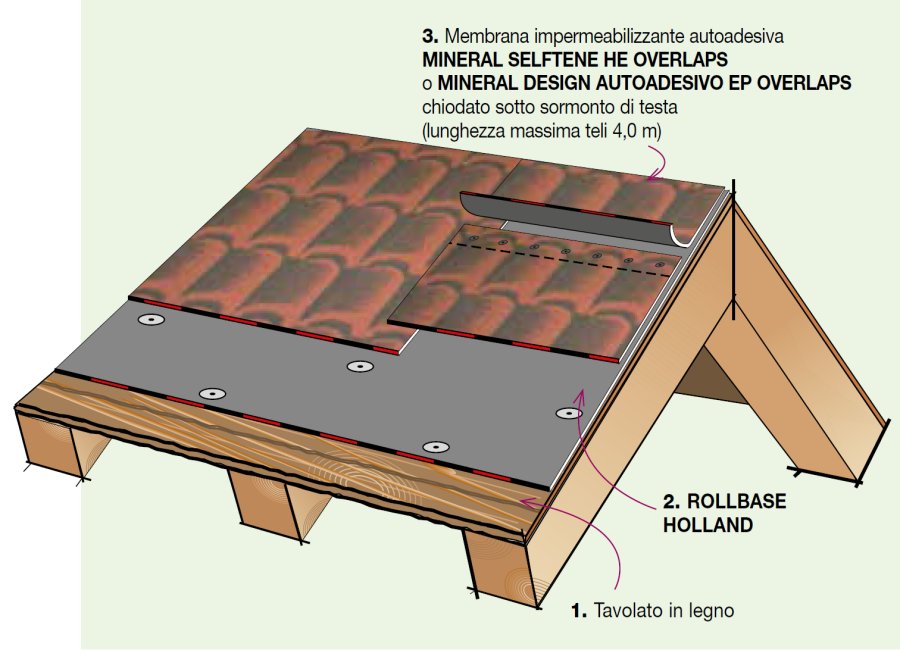 Refurbishment of old loose timber boards with joints between the lower boards at 5 mm, with self-adhesive membranes on ROLLBASE.
After having restored the surface flatness of the timber boards and before laying the self-adhesive membranes, ROLLBASE HOLLAND POLIESTERE will be mechanically fixed, with nails provided with 50 mm diameter washers, in order to regularise the surface. It is a membrane reinforced with Spunbond non-woven polyester fabrics with the bottom surface combined with a bare polyester non-woven fabric and the top surface coated with a melted polymeric skin compatible with cold laying of self-adhesive membranes. Subsequently, on the entire surface, a self-adhesive membrane, self-protected with slate granules MINERAL SELFTENE HE OVERLAPS or MINERAL DESIGN AUTOADESIVO EP OVERLAPS, will be installed in complete adherence by simple pressure at room temperature.
Description of the layers and related product data sheets:
Boards
Membrane (first layer)
ROLLBASE HOLLAND POLIESTERE
Membrane (second layer)
MINERAL SELFTENE HE POLIESTERE
MINERAL DESIGN AUTOADESIVO EP OVERLAPS POLIESTERE
For proposals or different solutions please contact our technical department of Index S.p.A.