Refurbishment of the waterproofing on timber boards with UNOLASTIC liquid membrane.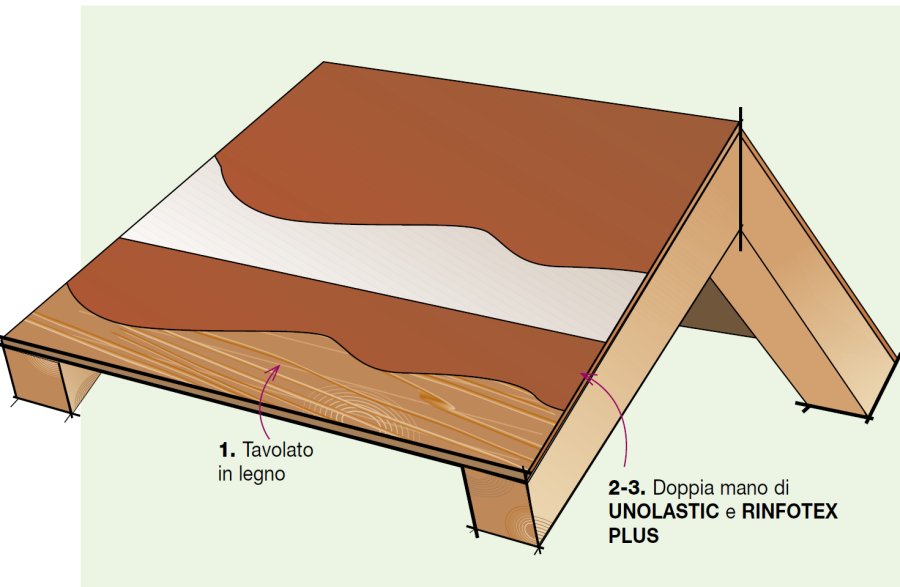 Refurbishment with UNOLASTIC liquid membrane directly onto boards. UNOLASTIC, single-component water-based waterproofing, is ready-to-use and guarantees waterproofing of continuous small surfaces also without the use of reinforcement. Using the reinforced fabrics RINFOTEX PLUS or RINFOTEX EXTRA, the system ensures excellent performance that waterproofs wide and split surfaces. It is a solution that is laid cold, avoiding the risk of fire, has high durability and is easy to apply, increasing the safety factor of the whole system. UNOLASTIC can be left bare and is available in grey, black, and brown or it can be painted with ELASTOLIQUID S or with WHITE REFLEX.
Description of the layers and related product data sheets:
1. Boards
2. Reinforcement
RINFOTEX PLUS
RINFOTEX EXTRA
3. Waterproofing
UNOLASTIC
For proposals or different solutions please contact our technical department of Index S.p.A.