Refurbishment of waterproofing on timber boards with self-adhesive membranes.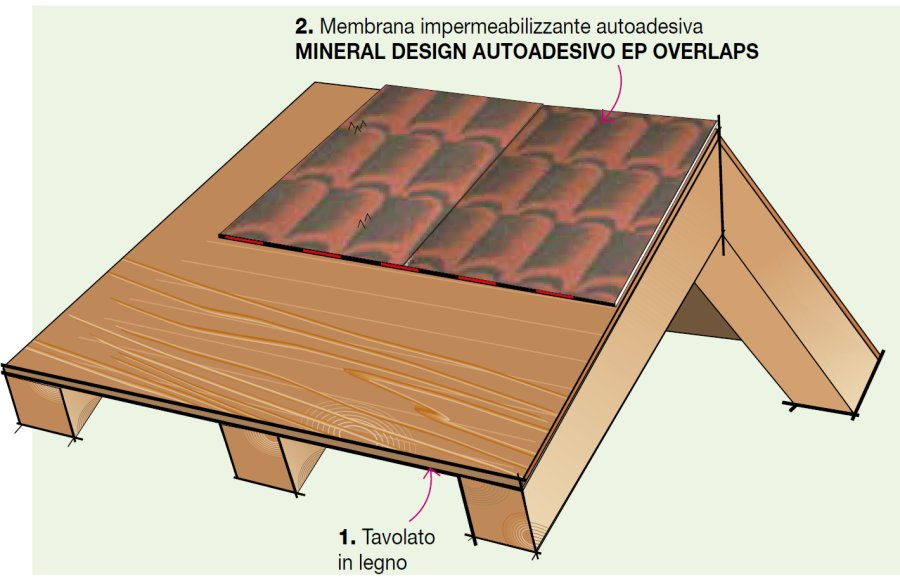 Refurbishment of old timber boards, with well matched joints between the boards, with self-adhesive membranes directly laid on boards. The installation surface must be smooth and free of lumps and bumps, and must be properly clean and dry. If necessary it must be treated with a coat of primer INDEVER PRIMER E or FONOCOLL. Subsequently, on the entire surface, a waterproofing self-adhesive elastomeric polymer-bitumen membrane will be installed in complete adherence by simple pressure at room temperature. The membrane will have a self-adhesive mixture spread on the bottom surface, polyester composite reinforcement stabilised with glass fibre, self-protected with slate granules MINERAL SELFTENE HE OVERLAPS or MINERAL DESIGN AUTOADESIVO EP OVERLAPS.
Description of the layers and related product data sheets:
1. Boards
facolt. Primer
FONOCOLL
INDEVER PRIMER E
2. Membrane
MINERAL SELFTENE HE OVERLAPS POLIESTERE
MINERAL DESIGN AUTOADESIVO EP OVERLAPS POLIESTERE
For proposals or different solutions please contact our technical department of Index S.p.A.
For many other stratigraphy and / or insights, you can consult the following documentation: